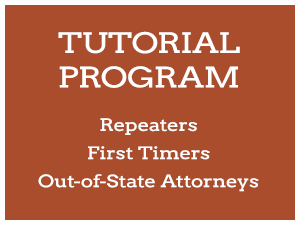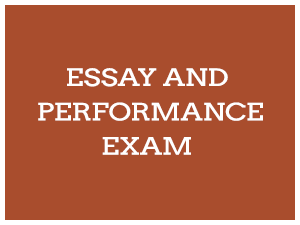 Tutorial One on One
California Bar Exam Essay and Performance
The FIRST Bar Exam, you want to believe that:
If you attend every lecture;
If you take copious notes and fill in your workbook blanks;
If you repeatedly write practice essays and performance tests;
If you write good headings;
If you strictly follow a rote study program;
…If you just take these steps, then you will pass the exam.
The SECOND Bar Exam, you cannot afford to make the same mistakes;
No more watching videotaped lectures;
No more wasting time writing practice essays wrong;
No more wasting time writing practice performances wrong;
No more generic grading comments;
No more "one size fits all" daily study programs;
…In other words, no more PASSIVE LEARNING!
For years students have said that they learned more from me in one session than during the entire two months of their previous bar review course. I flatly reject the "cookie cutter" approach, which is characteristic of bar review programs. My approach is to adapt to each individual student and proceed to critique your writing, tell you the truth about what you are doing wrong and then work to solve whatever problems exist. By the time of the Bar Exam, you will know how to score extra points and write at a level that is "as good as it gets".